The Hand Switch is recommended for steam sauna's as a safety device, providing the client (from within the sauna) control of heat & ozone production in case of emergency.
It is also ideal for virtually any application (limited by 12Amp/110-120VAC) that would benefit from remote switching without exposing the switch or extended wires/cables to danger of being damaged OR risking electrical shock in unfavorable environments.
Product Notes:
For indoor use only
Main unit size is 3.5 x 2 x 2.5 (H x W x D) + air inlet & power cord not included in measurements
Air balloon size is 2 x 5" (DIMxL)
Tubing size is 1/8"ID & 1/4"OD and 12FT length (tubing lengths up to 50FT available upon request)
Maximum load is 12Amp/120VAC (1400W)
UL listed
How it works:
The Tubing of the air balloon assembly must be attached to the switch port on the bottom side of the main unit.
The unit is plugged into a standard North American power outlet (110-120VAC)
The appliance to be controlled ON/OFF is plugged into the main unit 110-120VAC power outlet.
The action of alternated switching ON/OFF the appliance is achieved by squeezing the air balloon (ozone resistant).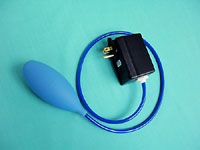 Pictures do not illustrate the 12 foot included tubing (shortened for picture purposes)