Suitable for clients who will travel with their ozonation system randomly to countries with 120 and 220VAC service
transformer can be also used for fax and answering machines, shavers, curling irons, tape recorders, radios, camcorder battery recharges, computers, etc.
Fuse protected. Fuse compartment is located at the back of the power converter enclosure.
Technical data:
3-pin grounded high impact plastic enclosure
| | |
| --- | --- |
| Input: | 220/240VAC |
| Output: | 110/120VAC - 85W |
| Protection: | replaceable fuse (0.8Amp) |
| Indication: | "Ready" LED Light |
| Size: | 4.5" x 3" x 3" (L x W x H) |
| Weight: | 1.25kg/ 2.75Lbs |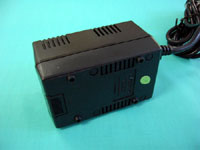 Recommendations:
Always connect power converter only to properly grounded power outlet.
Do not overload power converter. The wattage of the appliance connected to power converter must not exceed the wattage capacity of the transformer.
If the converter is going to be used in continuous duty it should be only used to 80% of its capacity - 80% from 85W (68W)
Power converter is equipped with safety fuse in the event of a power surge from the power supply. The fuse can be easily replaced if burned out. However, the fuse will not prevent damage to appliance connected to the power converter.
---