The External Ozone Concentration Regulator is a device designed specifically for controlling the OzoneLab™ instruments in special Ultra-Low Ozone Production Mode (0-1% of Nominal Output), extending the use of our instruments. This small hand-held device is powered directly from controlled ozone generator and does not require an independent power source.

Operation:

The ozone concentration delivered by the ozone generator is determined by many factors. However, for the purpose of outlining the function of External OCR device, the focus should be directed on two variables closely associated with the High Voltage Discharge within the ozone production cell, a process directly responsible for production of ozone:
• Duration of the "Discharge Cycle"

External OCR is equipped with 10-Turn Precision Dial located on the front panel. The precision dial is further equipped with "setting lock", allowing the operator to secure the desired value. By increasing the values set on the 10-turn precision dial represent increased duration of the high voltage discharge cycle. Ultimately, the maximum setting "10.00" results in full time uninterrupted sequence of discharges delivering MAXIMUM ozone concentration/output.
• Frequency of the repetition of "Discharge Cycle"

External OCR unit has built-in internal timing circuit that offers a wide range of adjustable repetition frequencies. The selection of suitable frequency is done by connecting/removing jumpers "A-K". The jumpers can be accessed by removing a back cover of the unit.

Conditions for the use of External OCR unit:

OzoneLab™ ozone generator must be equipped with EXT O3 Control Port

EXT O3 Control Port is a standard on all OzoneLab™ ozone generators produced after 1.1.2004. Before this date, EXT O3 Control Port was optional.

OzoneLab™ Link Cable (included with each External OCR unit).
Technical Data:
| | |
| --- | --- |
| Power Requirement: | 12VDC provided by the OzoneLab™ Ozone Generators |
| Enclosure: | ABS plastic |
| Size & Weight: | 2.5x 3.5 x 1-1/8" (66x 92x 28mm) | 0.3Lbs. / 0.15kg |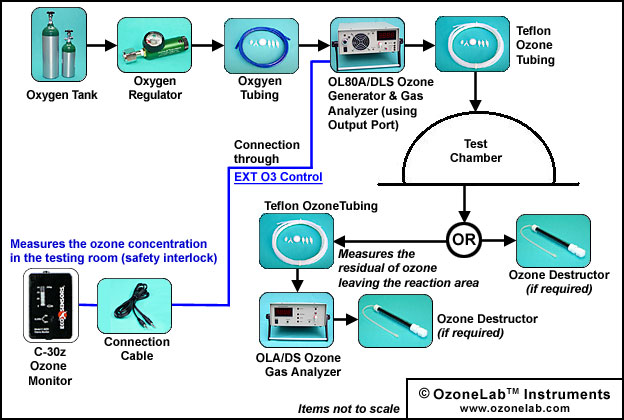 ---